Wear Red in 2017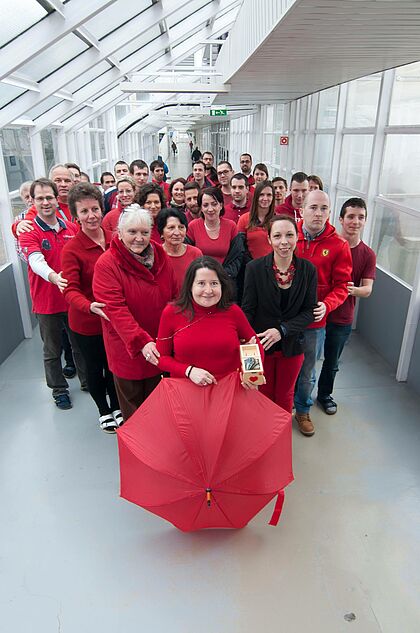 2017-February - 'Wear Red Day' took place on February 17. It has become a bit of a tradition at Bicske, but we have a lot of new staff who had never heard of the event. This year the works council pitched in to help with the promo and organization, and its efforts paid off. We are proud to say that many new colleagues eagerly took part.

It was the sixth such charity event. Szemem Fénye Alapítvány, a foundation that sponsors children's hospices all over the country, launched the 'Wear Red' initiative in 2011 in Hungary.
Why wear red?
It's all about compassion: You wear, eat or drink something red, have a picture taken, upload it to the organization's Facebook page, and donate 200 HUF to the foundation. This year's total came to 60,000 HUF, a new record for us.
The strong turnout goes to show how seriously we take social responsibility. This positive mental attitude and team spirit is part of our working life, and it is one of the reasons why communication flows so smoothly here.
All in all, it was another happy 'Wear Red Day' with colleagues wholeheartedly joining to demonstrate empathy, unity and solidarity.
It's a joy to see this kind of creativity and courage in action—our thanks go out to all who took part!