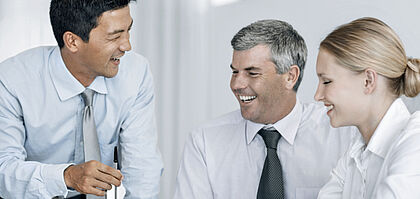 For Vincotech, responsibility and sustainability are more than just the fulfillment of legal requirements and regulations. We are setting an example for social accountability by supporting environmental sustainability and taking responsibility for humans health and safety as well as for economic success. We are living up our commitment to protect the environment, conserve natural resources and support ecological innovations.
This responsibility lies with everyone at the company, regardless of position and function.
Environment, Health and Safety Policy
Vincotech is committed to protecting the environment and natural resources, complying with all applicable environmental laws and regulations, and ensuring every employee's health and safety. This responsibility lies with everyone at the company, regardless of position and function.
In order to contribute to the sustainable development and continuous improvement of our performance, the following policy shall define the company´s environmental, health and safety initiatives and actions.
To fulfill our commitment, Vincotech will:
Operate the facilities in a manner that protects our employees, public health and the environment
Comply with all relevant EHS laws and regulations at every location
Seek to continuously improve our environmental and safety performance
Design our products and processes in a manner that eliminates unreasonable risks from the manufacture, use and disposal of our products
Seek to conserve energy, water and raw materials and to reduce waste, emissions and the use of toxic materials
Respect the environmental, health and safety rights and interests of the surrounding areas in each and every location.
This has been documented, implemented, maintained, communicated to all employees and partners, and made available to members of the public upon request.
Code of Conduct
Vincotech's code of conduct aims to ensure working conditions are safe, workers are treated with respect and dignity, and business operations are fair, compliant and environmentally responsible.
Vincotech's general principles are:
Fair Employment and Labor
Uphold workers' human rights and ensure fair treatment and respect for the individual
Health and Safety
Minimize work-related injury and illness
Environmental Commitment
Act responsibly to produce world-class products
Management Practices
Manage, operate, and do business in keeping with this code and general business ethics
Fair Competition
Avoid conflicts of interest and uphold a management system to sustain proper control mechanisms
Privacy and Data Protection
Guarantee compliance with all applicable privacy and data protection laws
Social Commitment
Live up to social responsibilities
Anti-Corruption & Anti-Bribery