Vincotech renews the Silver sponsorship with TUfast in Munich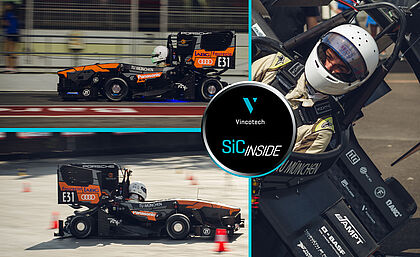 Vincotech is proud to announce to have renewed the Silver sponsorship with TUfast in Munich. We are happy to further support this very successful and innovative development team of electric race cars. TUfast even reached a world record with the eb019 this year and moved to the first place in the world ranking list! Congratulations!
Four overall victories in four attended competitions and one world record – that is the result of the TUfast electric racecar for the Formula Student competition series 2019. Ten months of development ended up in a completely new and self-developed racecar. Its first ride has been back in June. After five weeks of testing and validation afterwards, it was ready to compete against multiple teams from everywhere around the world. The first competition took place in Hungary. The hard work of the past months paid off in the first overall victory of a TUfast electric car in Europe. After this, the team attended their second competition for this year in Spielberg, Austria. TUfast could also win this, after a tough fight against the teams from Delft and Trondheim. 119 teams, whereof 39 were electric racecars, competed at the most important Formula Student competition in Hockenheim. The toughest and longest competition of every season took place from the 5th to the 11th of August. Here the team could set a world record in the skidpad discipline. By winning the season final in Barcelona TUfast could move up to the first place of the world ranking list.
The all-wheel driven car is powered by a self-developed inverter, which is equipped with Vincotech's SiC-Modules. With a weight of only 2.6 kg and a continuous power-capability of 80kW it is the lightest inverter in the Formula Student competition.
Congratulations! We are looking forward to another successful season!
To learn more about the TUfast project, visit http://tufast-racingteam.de.