Another €12,000 to "Water for Ghana" project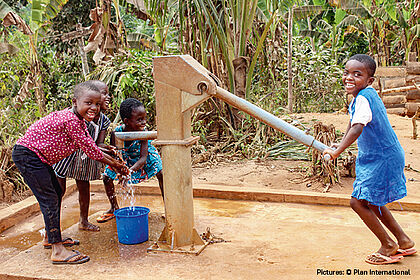 In lieu of Christmas gifts to customers we have again donated to the same worthy cause that we supported as a result of the the 2019 customer satisfaction survey. Our donation of €12,000 will be used for a good cause in our and our customers' names to enable people in Eastern, Central and Volta a better access to drinking water and to sanitary facilities.
Although Ghana has made significant economic achievements in recent years, living conditions in many places are lagging behind. Especially in rural areas, people hardly benefit. Only 66 percent of the population has access to drinking water and only 9 percent have sanitary facilities.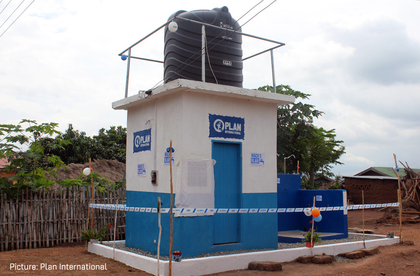 Therefore, the program "Clean Water for Ghana" was set up to bring an infrastructure to improve the drinking water and sanitation situation for around 32,000 people. Among other things, it aims to build and renovate 36 water points in communities, schools and health centers, and install sanitary facilities for boys and girls at 36 schools. About 12,000 pupils will benefit of new toilets and washing room in their schools. To make all these improvements permanent, a community training on sanitation and sustainable water management goes to help.
Case Studies
71-year-old Togbe appeals for support to own a household latrine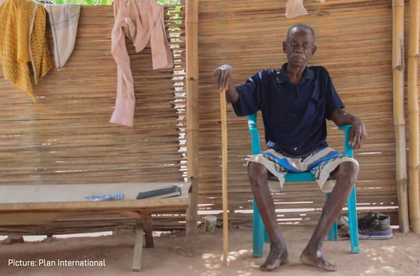 71 Year Old Togbe needs assistance to own a Household Latrine
Togbe, a 71 year old man, has become weak and is hardly able to do much for himself. Togbe is bedeviled with ill health conditions including swollen foot that makes it difficult for him to walk and do other daily activities. He lives with his wife who supports him in daily activities with peasant and subsistence farming as her only source of livelihood.
In terms of Sanitation, Togbe and the wife all depend on the only un-covered pit latrine for the community which is located in the bush far away from their home. In an interaction with Togbe, he laments bitterly about the distance to the pit latrine and its unhygienic nature together with threats of reptiles such as snakes which are common in the bush where the latrine is located. This notwithstanding, the old man makes it clear that there was no option for him than to just bear with the prevailing situation. He is however happy that Plan International Ghana through the Rural Water Sanitation and Hygiene project has an initiative in place to promote ownership of Household latrines. He also appeals for support so that he could also own a latrine for his household.
(Source: Plan International)
39-year-old Ewurama needs assistance to construct a household latrine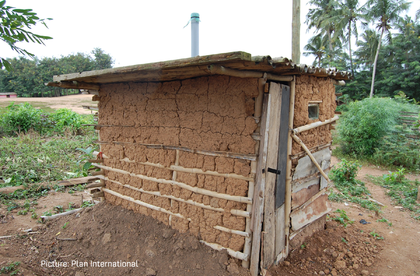 A 39 year old physically challenged woman needs assistance to construct Household Latrines
Ewurama, a 39 year old woman is a Physically Challenged who lives with 5 children of which one is also Physically Challenged, in the Eastern region of Ghana. Ama needs assistance to construct household latrine, as she is engaged to another physically challenged man 45 year old Kwasi, to whom she had 7 children with 5 of them alive. Out of the 5 children aged between 14 years and 22 years unfortunately, one is a physically challenged and attends primary school.
The family has no toilet facilities and therefore relies on the bushes around to defecate. The 3 members of the family that are physically challenged, do crawl with their bare hands for a distance to either throw their toilets collected in bowls or defecate around the bushes each morning. Ewurama has a land around her house and is willing to own her household toilet for both her able children and the disabled one however, it is extremely difficult for her to raise funds to construct her own family household latrine particularly when the Partner who is also physically challenged has deserted the family. Therefore, it is extremely important that Ewurama is supported by the RWASH Project to own her household to ensure her dignity within the community, and improve her family health outcomes.
(Source: Plan International)