VINCOTECH'S GAMING-FOR-CHARITY DRIVE BRINGS IN €15,000 AT PCIM EUROPE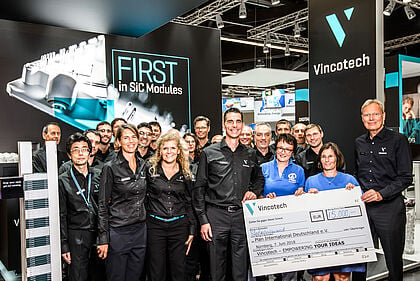 2018-June - Vincotech staged a charity Sudoku challenge at the PCIM Europe show in support of Plan International Deutschland e.V. The determined efforts of Vincotech's engaged partners and the booth's staff to solve puzzle upon puzzle are now helping to make cities safer for girls in India.
Vincotech pledged to donate money to Plan International for every successful attempt. The funds will go to a project aimed to empower girls and boys and make the inner-city slums of Delhi, India, a safer place. This initiative is part of Plan International's global 'Because I'm a Girl' drive. The company is proud to announce that visitors stepped up to the challenge, racking up around €11.3K during the fair's three days. Vincotech matched all contributions. A
€ 15,000
check went out to the child welfare organisation
Plan International Deutschland
. Vincotech wishes to thank everyone who supported this activity and took the opportunity to solve the puzzle. For more information about this project please see the
Vincotech-partner-page at Plan International
.
Gaming for Charity: Sudoku Event at PCIM Europe 2018