Vincotech – Driven to Drive Development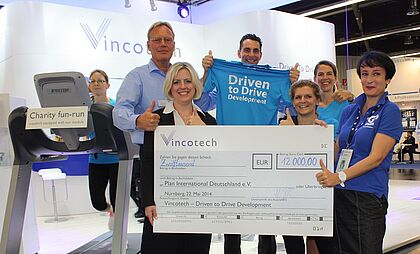 A Charity fun-run at PCIM Europe 2014 in Nuremberg
Vincotech, with the help of Precor Fitness, Germany set up a treadmill equipped with one of our modules at PCIM Europe fair in May 2014. The Vincotech team committed to a charity fun-run on that machine, and invited customers and partners to join in and log a couple of kilometers of their own.
Vincotech promised to donate € 50 to Plan International Deutschland e.V. for every kilometer logged. The machine was kept rolling and the kilometer counter spun eight hours a day throughout the three-day show in May 2014. Bodo Arlt from Bodo's Power Systems Magazine got us off to a good start with a donation that put 15 km on the treadmill. Vincotech is proud to state that we were able to accumulate about 230 kilometers.
The company matched all contributions and a donation of
€ 12.000
could be endowed to Plan International in support of the "Water for Ethiopia" project.
Thank you to everybody supporting us in this charity event!
For more information about this project please see the Vincotech-partner-page at Plan International.