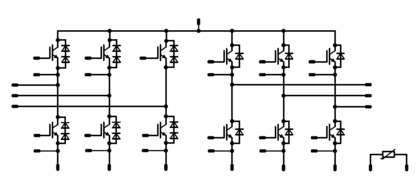 Long life cycle and high switching frequency in the converter stage are the main requirements for power modules used in drives for elevator and escalator systems.
Vincotech's offer comprises standard sixpack as well as sixpack equipped with high speed components.
Special topologies, integrating 2 sixpack for both the converter stage and the motor stage, are also available in order to provide a more compact solution and meet the aforementioned specifications.
Twin-pack are typically equipped with standard as well as high speed components. Tandem diode solution is also used to reduce the power losses and then enhance the life cycle of the module even further.