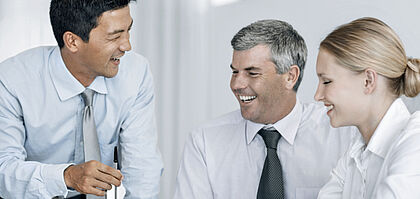 For Vincotech, responsibility and sustainability are more than just the fulfillment of legal requirements and regulations. We are setting an example for social accountability by supporting environmental sustainability and taking responsibility for humans health and safety as well as for economic success. We are living up our commitment to protect the environment, conserve natural resources and support ecological innovations.
This responsibility lies with everyone at the company, regardless of position and function.
环境与职业健康安全管理政策
Vincotech 始终致力于保护环境和自然资源,遵守各项使用的环境法律和法规,确保每位员工的健康和安全。 这是我们公司内部不同岗位,不同职能的每位员工都必须履行的责任。

为了对可持续发展做出贡献,并持续改善我们的表现,公司通过指定以下政策约束公司在环境、健康和安全方面的计划及行动。
为了履行我们的承诺,Vincotech 将:
经营我们的设施时须以最大程度保护我们的员工,保护公众安全和环境
遵守各地所有相关 EHS 法律和法规
努力持续改善我们在环境和安全方面的表现
在我们的产品和工艺设计过程中,努力消除产品制造、使用和废弃过程中可能产生的不合理风险
努力保护能源、水和原材料,减少废物、排放以及有毒材料的使用
遵守我们开展经营活动的每个地点周围区域的环境、健康和安全权利及利益
我们将这些政策妥善记录,合理实施维护,并传达给所有员工和合作伙伴,公众也可以向我们索取相关信息。
公司行为准则
Vincotech's code of conduct aims to ensure working conditions are safe, workers are treated with respect and dignity, and business operations are fair, compliant and environmentally responsible.
Vincotech's general principles are:
Fair Employment and Labor
Uphold workers' human rights and ensure fair treatment and respect for the individual
Health and Safety
Minimize work-related injury and illness
Environmental Commitment
Act responsibly to produce world-class products
Management Practices
Manage, operate, and do business in keeping with this code and general business ethics
Fair Competition
Avoid conflicts of interest and uphold a management system to sustain proper control mechanisms
Privacy and Data Protection
Guarantee compliance with all applicable privacy and data protection laws
Social Commitment
Live up to social responsibilities