Summer celebration at Unterhaching child development center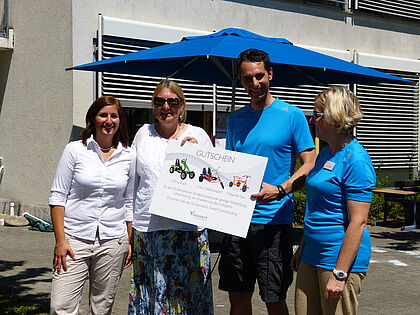 On July 19, 2014, Vincotech personnel rolled up their sleeves and pitched in to make this year's summer celebration at the Förderzentrum Förderschwerpunkt geistige Entwicklung a rousing success.
Our employees brought a great deal of enthusiasm to the party at this
Unterhaching child development center
formerly known as Erwin-Lesch-Schule. They staffed various stations with games and competitions for the children to enjoy.
In the course of the event, Vincotech Managing Director Eckart Seitter handed Headmistress Angelika Kuchler-Mauerer a voucher worth €2,083 for three new children's vehicles. They will be added to the educational facility's fleet of ride-on toys.
Ms. Kuchler-Mauerer was delighted with the voucher and the great work: "
Vincotech's commitment to society is not just about donating money; its staff also supported our summer party by providing manpower on a Saturday, which merits special praise. Our students were thrilled with the games on offer as well as with the open-minded interaction. The teachers and child care staff also benefited from the support as it gave them more time to talk to parents.
"