Thermal Grease Options at a Glance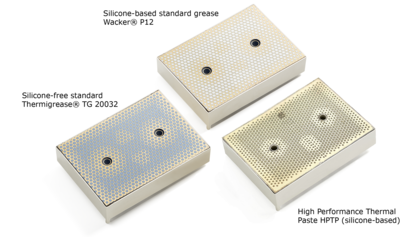 Thermal grease serves mainly to provide a thermal interface between two surfaces — in this case, between the bottom of the power module and the heatsink. The idea is to even out surface irregularities using the thinnest possible layer to achieve lowest thermal resistance. Thermal grease accounts for about half of the total thermal resistance occurring from the chip to the heatsink, so it is very important to select the thermal grease best suited for the application.
Vincotech power modules have been optionally available with pre-applied thermal grease for many years now. Its benefits are many, and can be measured in both performance and reliability. The grease is precision silk-screened onto the surface to achieve a consistently thin layer of material that conducts heat as efficiently and effectively as possible.


The benefits of pre-applied thermal grease:
Lower handling costs and less production overhead with no need for screen-printing equipment
Automated screen printing for utmost precision and reliability
Thinnest thermal grease layer for minimum thermal resistance and maximum thermal conductivity
Extended lifetime and enhanced reliability
Vincotech offers several options — Wacker P12 silicone-based standard grease, Thermigrease® TG20032 silicone-free standard grease, Vincotech Phase Change Material, and a new high-performance thermal paste (HPTP) with enhanced thermal conductivity.
A recent addition to Vincotech's offering, HPTP is silicone-based thermal paste with good thermal conductivity as indicated by its datasheet specifications. The paste has an improved nominal thermal resistance, due to an optimized filling degree, the particle size and its particle distribution, when applied to the power module. Therefore, this new HPTP actually delivers superior performance.
The benefits of HPTP:
Outstanding thermal performance
Up to 40 % lower thermal resistance Rth(j-s) than standard thermal grease
More output power or longer lifetime
| Thermal grease | Thermal conductivity W/m*K | Released for Products |
| --- | --- | --- |
| Silicone-based standard grease - Wacker® P12 | 0.81 | MiniSKiiP® |
| Silicone-free standard grease - Thermigrease® TG20032 | 2.5 | MiniSKiiP® |
| High Performance Thermal Paste - HPTP (silicone-based) | 2.5 | MiniSKiiP® |
Protection of thermal interface material
ProCap 0 and ProCap 1
To protect the thermal interface material during transport of modules or in a wave-soldering oven, Vincotech has developed ProCaps (protection caps) for during and after PCB assembly.
Related Documents: