Phase-Change Material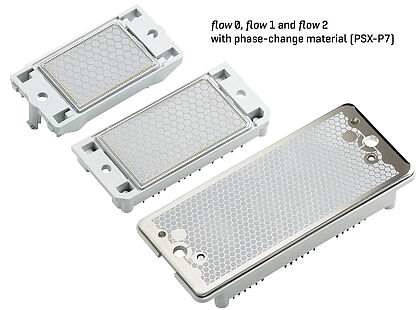 The benefits of using Loctite® PowerstrateXtremeTM (PSX) phase-change material to enable thermal conductivity between the module and heat sink are considerable. The phase-change material is solid at room temperature. This makes it smear resistant during transportation and module assembly. Our in-house screen-printing process ensures the material's thickness configured and optimized for maximum heat transfer capability. The phase-change material is released for all flow housings with and w/o baseplate in combination with Al2O3 DCB, but also for MiniSKiiP® with Si3N4 DCB.



Features
Solid, non-sticky surface; minimizes contamination risk, prevents layer damage
Fast, easy assembly of modules
Easier production process; no need for screen printing facilities
Automated screen printing for utmost precision and reliability
Low thermal resistance with optimized thickness
Four times higher thermal conductivity than standard thermal grease
Benefits:
Up to 20 % Rth reduction from Tj to heat sink for Al2O3-based modules
Up to 30 % Rth reduction from Tj to heat sink for AlN-based high performance modules
More output power or longer lifetime
Standard solder profile applicable (e.g. J-STD-001, J-STD-003)
Compatible with Press-fit pins
| Parameter | Value | Unit |
| --- | --- | --- |
| Specific gravity | 2 | g/cm² |
| Thermal conductivity | 3.4 | W/m*K |
| Phase change temperature | +45 | °C |
| Viscosity above phase-change temperature | Thixotropic | |
Protection of thermal interface material
ProCap 0 and ProCap 1
To protect the thermal interface material during transport of modules or in a wave-soldering oven, Vincotech has developed ProCaps (protection caps) for during and after PCB assembly.