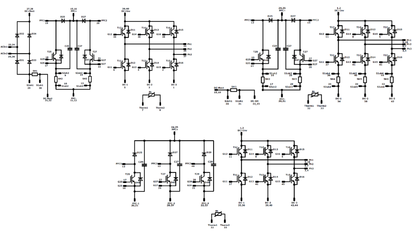 Increasing the power density is one of the main goals in the design of Heat Pump systems. This goal can be achieved by:
moving towards more compact designs
increasing the efficiency of the energy conversion
integrating more cost-effective solutions
Vincotech's PIM with interleaved Power Factor Correction (PFC) circuit is a unique and innovative topology for power modules featuring a high level of integration as well as improved energy conversion efficiency.
Interleaved configuration offers several benefits including:
ease of PCB design
higher efficiency of the energy conversion
better heating distribution
smaller components on the PCB
easier design of EMI filtering
reduced output RMS current
Vincotech's new 600V flowPIM + PFC family is composed of three different sub-families featuring two--leg interleaved PFC circuit with and without an integrated input rectifier, and three-leg interleaved PFC without an input rectifier, respectively (see Figure 1).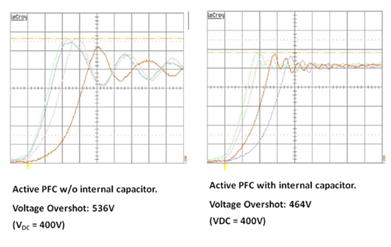 All of them are equipped with both a three-phase motor inverter and a temperature sensor.
Products with two-leg interleaved PFC feature also shunt resistors in the motor inverter as well as PFC circuit. The common and leg shunts in the PFC allow a perfect balancing of the current in the PFC circuit that leads to an increased lifetime of the chipset. The integrated shunt resistors in each leg of the inverter result in vastly improved motor control.
Furthermore, the DC-link voltage overshoot is dramatically reduced thanks to the on-board capacitors (see Figure 2).
Special care is paid to the layout of the products in order to offer the best compromise between cost and performance. The power pins on the edge of the power modules result in a simplified and a more cost-effective PCB design. The thermal design is also optimized thanks to the separation of inverter and PFC parts.